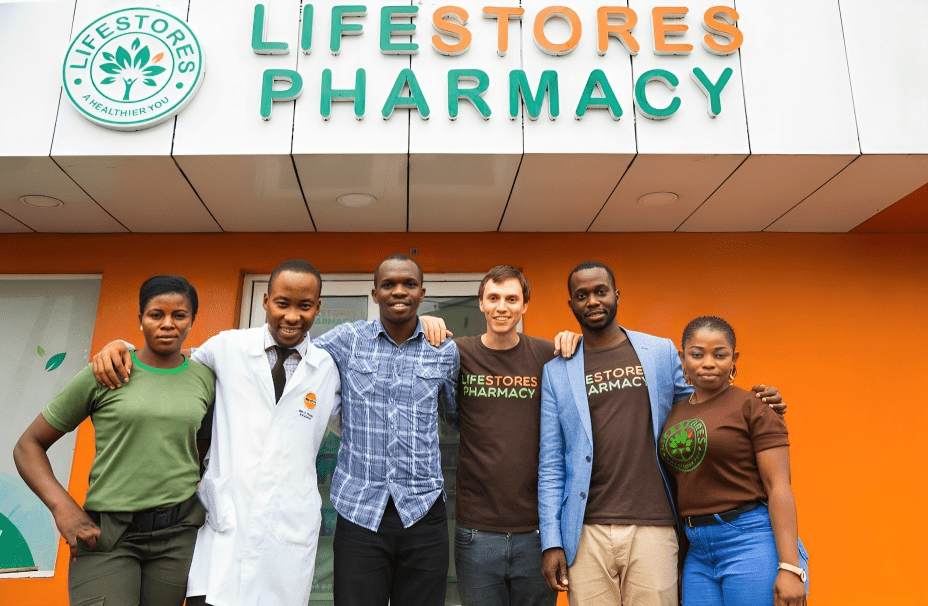 LIFESTORES PHARMACY
Co-founders Bryan Mezue and Andrew Garza, with experience in pharmaceuticals and supply chain, founded Lifestores Healthcare in 2017 to democratize access to affordable primary healthcare. The company now boasts 25% monthly growth and has over 10% of Nigeria's pharmacies as registered clients. Lifestores initially consisted of six retail pharmacies, aimed at offering Nigerians access to authenticated medications. This solution was particularly pertinent in Nigeria, where a disconcerting 20%–40% of medicines are counterfeit. Their approach involved ensuring drug legitimacy by sourcing supplies from the top of the supply chain and subjecting them to rigorous traditional inspections.
HELIUM HEALTH
Founded by Adegoke Olubusi, Tito Ovia, and Dimeji Sofowora in 2016, Helium Health is the #1 healthcare technology provider in West Africa. Since 2016, Helium Health has taken hospitals, clinics and other health facilities digital almost instantly using their flagship Electronic Medical Records/Hospital Management Information System (EMR/HMIS) product. Helium Health provides healthcare software for electronic medical records, hospital management, billing/medical loans, and analytics. With over 500 providers served, more than 10 thousand health workers and well over 1 million patients reached, Helium Health is driving health tech innovation in Africa.
MDaaS GLOBAL
MDaaS specializes in theestablishment of diagnostic centers in underserved communities and identifying the specific equipment required by small and medium-sized hospitals in these areas. Established in 2016 by Oluwasoga Oni and Genevieve Bernard Oni, MDaaS has also its presence to 10 out of the 36 states in Nigeria, boasting a network of 15 diagnostic centers and two affiliate partners in these regions. This positions MDaaS as the third largest and most rapidly expanding diagnostics network in Nigeria. Furthermore, MDaaS has secured a total of $3.7 million in funding to accelerate its physical expansion throughout Nigeria with the goal of becoming the largest diagnostic chain in the country. This rapidly growing diagnostics firm is on a mission to facilitate accessible diagnostic and preventive healthcare for the Nigerian population.
INFIUSS HEALTH
Infiuss Health is a startup that connects US and EU-based pharma, life science companies, and researchers to participants for clinical trials and research in Africa in under 5 days. Moreover, Infiuss health was one of the 30 healthtech startups that benefitted from the Bill Gates-backed i3 initiative $7 million fund in 2022. 
Through a direct-to-patient approach the goal of Infiuss Health, is to decentralize clinical trials through a unified platform.
EMERGENCY RESPONSE AFRICA
Emergency Response Africa is a healthcare technology company that is transforming the way medical emergencies are managed in Africa, beginning in Nigeria. The people behind this initiative are the imaginative intellects – ­Folake Soetan Owodunni and Maame Poku, who foundedEmergency Response Africa in 2019. ERA has received funding from the United Nation Central Emergency Response Fund (CERF), which released $150 million for underfunded humanitarian operations across 13 countries including Nigeria. Their services include medical first responder services, signal Software and 24/7 command center, first aid and CPR Training, emergency response planning, Emergency-Ready partner program and ambulance services.
HEALTHTRACKA
In 2021, Healthtracka was founded to address the challenges that discourage patients from undergoing routine checkups. Healthtracka as a platform enables individuals to book their lab tests online, have their samples collected at home, and receive their results via email within 48 hours. The tests encompass a range from fertility and STD tests to full body counts and COVID tests. Over the past two years, Healthtracka has achieved several noteworthy milestones, including the expansion of health services offered on their platform, growing from just 5 to over 200 health tests featured on their website. This digital health company is also operational in 12 states throughout Nigeria and has recently introduced a self-test HPV kit. The digital health platform was established by two individuals, Ifeoluwa Dare-Johnson and Victor Amusan, who identified challenges in the healthcare sector and took a bold step to solve them.
LIFEBANK
Lifebank is a health startup that facilitates the transmission of blood from labs across the country to patients and doctors in hospitals. It was founded in 2016 by Temie Giwa-Tubosun and was inspired by the birth of her first child and the complications from that experience. As of January 2017, it had delivered over 2,000 imperial pints (1,100 L) of blood to patients in need across the country. In the past four years, the company has distributed about 26,000 products to more than 10,000 patients in nearly 700 hospitals in Nigeria. LifeBank has developed a platform that connects hospitals and clinics with blood banks and oxygen suppliers, ensuring a timely and efficient delivery of these life-saving products. The platform uses technology to match supply and demand, reducing waste and preventing shortages of critical medical supplies. This approach has proven to be highly effective, especially in regions with challenges related to healthcare logistics and supply chain.
REELFRUIT
Reelfruit is a company that specializes in processing and packaging dried fruits and nuts and has not only captured the hearts and taste buds of many but has also demonstrated the power of empowering local communities and women through sustainable agriculture. Founded in 2012 by Affiong Williams, her aspiration was to introduce a healthier and more convenient snacking choice to the Nigerian market. Reelfruit retails a range of dried fruit and nut snacks through a variety of channels including over 450 Supermarkets, Airlines, Schools, Hotels, and concluding export sales via Amazon.com. ReelFruit have genuinely reshaped the snacking sector, demonstrating that quality and sustainability are not mere catchphrases but rather fundamental foundations upon which a prosperous business can be established.
INSTANTRAD
InstantRad is a company that offers a Teleradiology-Platform-As-A-Service (TPaaS) for healthcare centers. Their platform connects medical professionals with medical images and provides detailed client and imaging information, allowing for efficient and effective patient care. InstantRad's services include rich and powerful analytics, reporting tools, RIS, PACS server, reporting system, second opinion, archive system, and image transfers. Founded by Seth Quansah in 2018, InstantRad's platform can be a valuable tool for healthcare centers looking to improve their radiology services and streamline their operations.